Understanding Crash Reports
Last modified on Jan 6, 2020 in Control Panel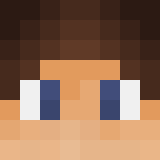 By Doug
Overview
Many times when modifying a server you may experience issues with the server crashing. These crashes are generally caused by either mods, the world, or the server jar. When a server crashes, it generates a crash report in the FTP File Access. These crash reports break down why the server crashes and can help you get a better understanding of what's wrong and how to fix it. At first look, it may seem confusing but all crash reports are similar and once you know what to look for you will be able to accurately read through the crash report.
Understanding a Crash Report
Where to find the crash reports
Head to your Game Panel and to the left, press FTP File Access and log in.
Once in FTP File Access, you will see a folder named `crash-reports`. Go ahead and click that. Looking inside of that directory you will notice a file or multiple files.
Every file is written with the date (2019-08-17) which makes it easy to know when each report was made. When there are several files it's always best to look at the latest and most recent crash to identify the issue. To be able to read the crash report itself you will click the `edit` link to the right of the file.
Reading the Crash Report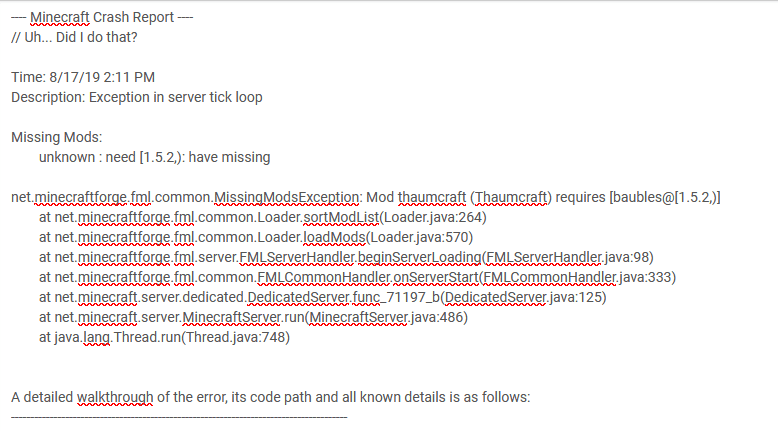 This is the top portion of the report where it will have the date, time and stack trace. The stack trace is a report of when a program runs at a certain time in its execution. This will be primarily where we will discover the error that is causing the server or client to crash.
It looks like a lot but by looking carefully we can deduce the error by picking certain parts of the stack trace out. In this example, we can tell that a mod is missing due to part of the stack trace saying "Missing Mods: unknown : need [1.5.2,): have missing". If we go down to the next line we can see that it tells "net.minecraftforge.fml.common.MissingModsException: Mod thaumcraft (Thaumcraft) requires [baubles@[1.5.2,)]" which translates to the mod Thaumcraft needs the mod Baubles version 1.5.2 in order to run properly.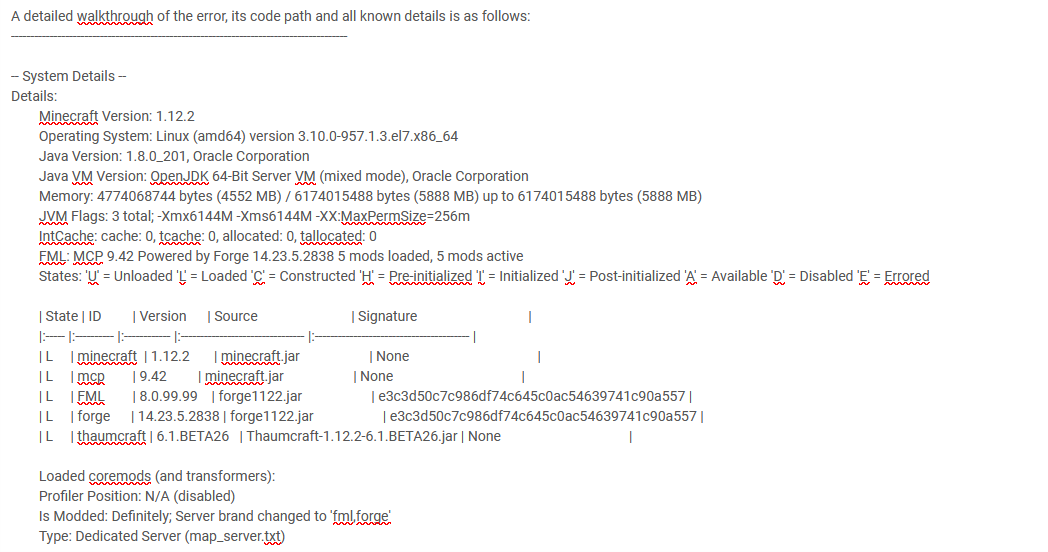 The second half of the crash report will go over your system details and the states of the mods loading in. This can be very important especially with client-side crashing as you can find our what version of Java they are running, how much ram they have allocated and the versions of the mods to be able to assist them. One of the best tools with crash reports is knowing the States in which a mod loads in. These states are as follows: 'U' = Unloaded 'L' = Loaded 'C' = Constructed 'H' = Pre-initialized 'I' = Initialized 'J' = Post-initialized 'A' = Available 'D' = Disabled 'E' = Errored
You can see these states to the left of each mod. In this example, they only made it to the loaded state. So if you have a mod that was UCE that would mean the mod Unloaded, Constructed and than Errored which means there was an error with loading that particular mod causing it to crash so you now know what the exact mod causing the issue is and can look into why it's occurring.
Conclusion
There are hundreds of different reasons that your server may crash, it can be from a world issue, server jar, mods, and far more. As long as you can narrow down what the reason is, the solution should come easier. If you can narrow down it's a world issue, you can Google the error line to see if there are any solutions or you can restore a backup. With so many different solutions to so many different problems, there isn't a way to break down each individual error you can get.
Related Content
Out Of Version Plugins
Missing Mods In World
Can't Keep Up
Failed To Bind To Port
Missing Required Core Mod